Donna Mintz, Clark Ashton: Shouting to the Hard of Hearing
ArtsATL, February 3, 2016(Reproduction).
visit: www.artsalt.com/clark-ashton
Clark Ashton: Shouting to the Hard of Hearing
images by Dan Powell
The Commuter Gallery occupies a gentle hill that rises above North Druid Hills Road just east of Clairmont Road. Passersby may have noticed the huge throne or the fantastical trinity of soaring iron and steel structures that comprise Clark Ashton's site-specific sculptural installation, Faith in Industry. The one that looks like a giant windmill with a buzz saw at the top? That's the Sky Saw, and it's designed to cut a hole in the sky to give access to the other side of consciousness. The Sky Stitcher beside it is there to sew it back up when openings may be detrimental to humanity. Commuters rushing past — on what Ashton refers to as "the mechanical river" — are oblivious to the fact that they are exactly who he is trying to reach with that very sculpture. Ashton designed Faith in Industry to produce psychic unity using commuters, and I am learning just what that means.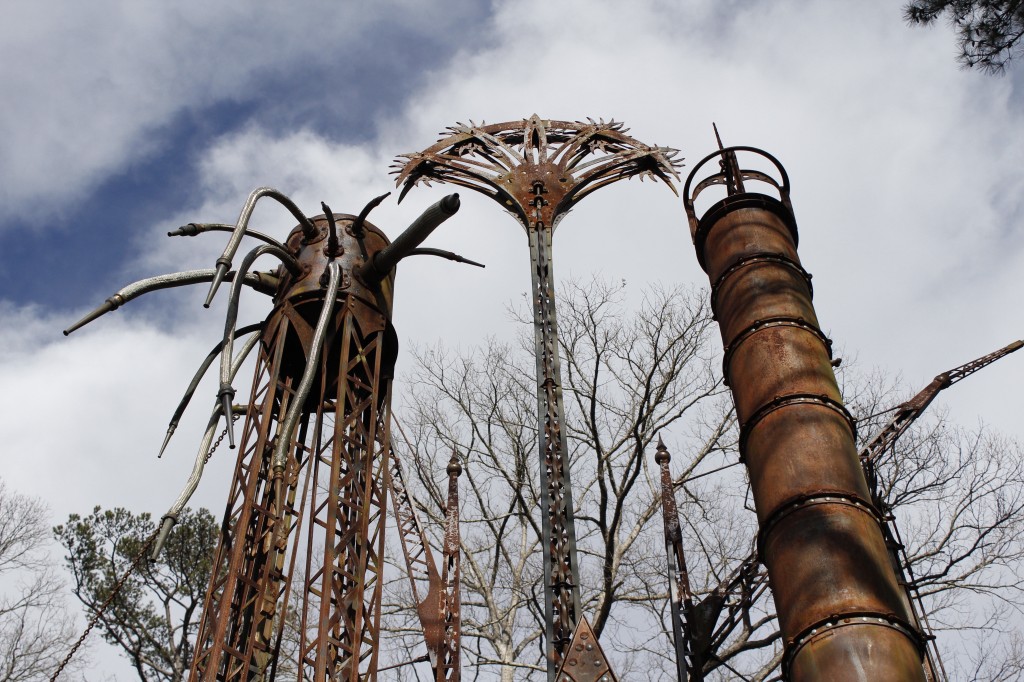 It's a cold, bright morning a few days into the new year as Ashton moves with enthusiasm and purpose among the sculptures with which he has colonized his Decatur yard over the last 25 years. He is teaching me the tenets of spiritual realism, the philosophical construct through which he attempts, in his own words, to "assimilate social, cultural, political and spiritual ideas through the process of artistic creation." It's a philosophy that falls somewhere between the existential thought of French thinker Jean-Paul Sartre and the full-tilt hellfire of South Georgia writer Harry Crews. His message is urgent. I try my best to keep up with him.
I had been reading Crews' memoir that morning — A Childhood: The Biography of a Place — and couldn't help but compare Ashton's outsized shapes and figures to the freakish characters who populate Crews' stories; characters who are, in turn, direct literary descendants of the grotesques in the novels and stories of Flannery O'Connor, Crews' greatest influence. The oft-quoted passage from her essay "The Fiction Writer and His Country" reverberates in the work of all three: If "your audience holds the same beliefs as you do, you can relax a little and use more normal means of talking to it; when you have to assume that it does not, then you have to make your vision apparent by shock — to the hard of hearing you shout, and to the near-blind, you draw large and startling figures."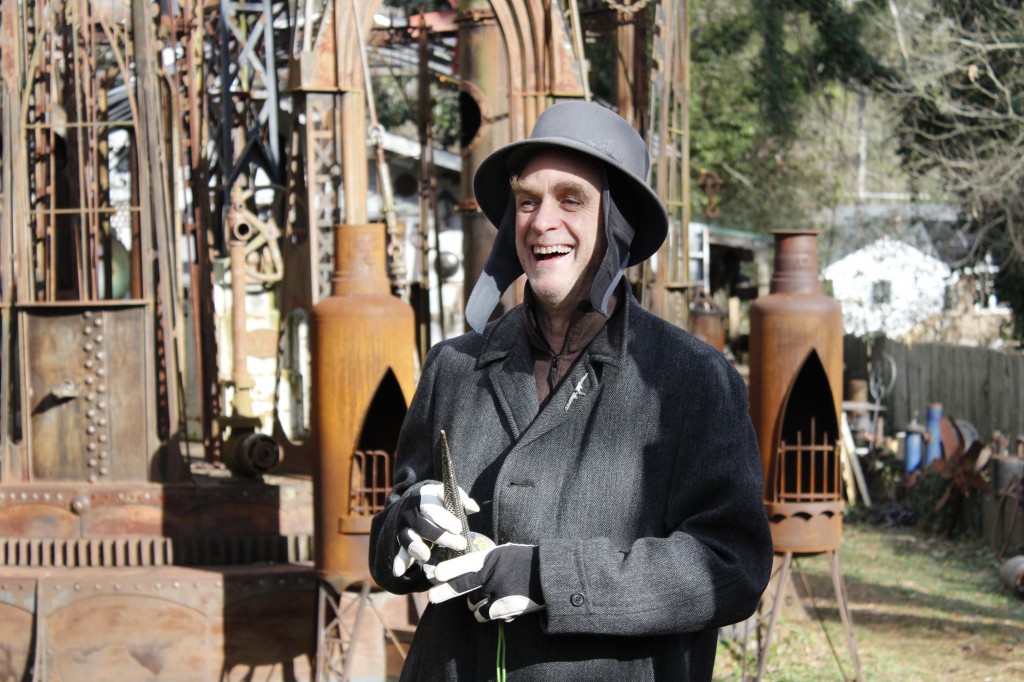 Ashton is a passionate man, not without a subversive wit and wry intelligence, who has, indeed, drawn large and startling figures to deliver his message of soul-saving free will. He has given over his home, studio, sculpture garden and the "Mechanical Riverfront Kingdom" that encompasses it, all in service of getting his message across and of creating his own vision of an integrated world of life and art.
The artist and musician has made it his life's work to examine what he describes on his website as the two most powerful conceptual forces in history, "God and Capitalism," and to create art that explores the "nature of faith, power … and systems of belief in order to generate positive new ideas directed toward the sustainability of the planet and a better world for its inhabitants. "
He delivers his philosophy with the overheated conviction of an old-fashioned politician and the fervor of a street preacher, much like Flannery O'Connor's Hazel Motes, the avowed atheist in her novel Wise Blood who preaches his own gospel of anti-religion. Unlike Motes, a nihilist who insists that the only truth is that there is no truth, Ashton deeply believes in the truth of his message and he lives it.
His is a message of the necessity of personal freedom, the freedom to determine one's own spirituality, to be free of the culturally transmitted information through which organized religion, politics and social constructs attempt to control us, and above all, perhaps, freedom from capitalism's "greed based manipulation of humanity." His delivery may be theatrical, and sometimes playful, but he is dead serious. He has written and published a whole book on the subject called It's Later Than You Think in which he describes an inherent need for freedom as the principle that dictates the thoughts and actions of his very existence. By the look of things this morning on Druid Hill, those thoughts and actions have much to do with art, redemption, salvation, faith and the soul-stealing evils of capitalism.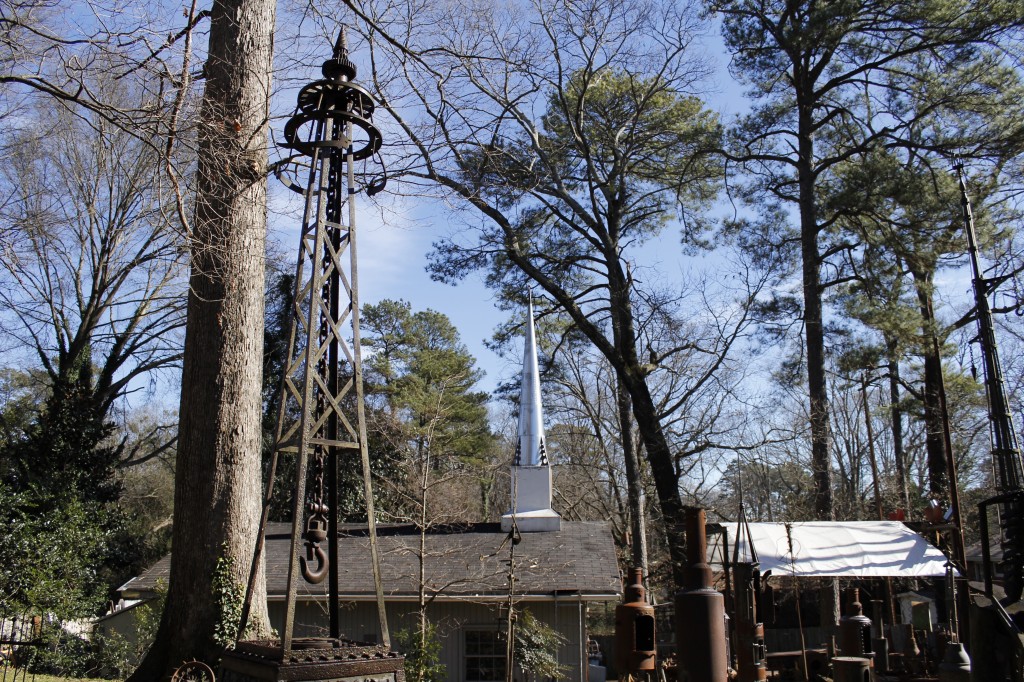 He made his first metal man in 1989, a sculpture he titled Adam, with the idea of making enough men to stage the Battle of Atlanta on his front lawn, but he set that project aside for the ideas that meant more to him. He's a modern-day Southern Agrarian with a knack for making things. Like those writers of the 1920s and '30s, he decries the scourge of industrialization and mourns the demise of community that he witnessed as a child of the 1960s South — but it was after he noticed the same in his own Decatur neighborhood, that in 1992, he began to address those concerns with an I'll Take My Stand-style manifesto of his own — the sculptural works that would grow to be The Commuter Gallery of today. A relentless stream of cars rushes past as we talk, ferrying anonymous souls through what Ashton calls their "transient existences." And like the stream that is constantly changing, but always remaining the same, each of the drivers inside those cars seems interchangeable with the next, and each is seemingly as oblivious to us as to Ashton's fantastical creation on the hill. This fact seems to prove Ashton's point, for their oblivion is his target.
What began as his effort to communicate with "those lost souls in transit," has overtaken the hill, the house upon it, the outbuilding behind it which houses his workshop, an installation and supports a shiny metal steeple and a creation called the Bateman 5000 through which he shows his video creations, the entire backyard and, it seems, his life.
The Commuter Gallery began in his front yard in 1994 with the completion of Boundary, an installation which evokes comparison to the ornate fences that surrounded old family graveyards. It references death of community, but his version of its ills depicts the passage of time through a parade of tormented souls, fertility figures, sperm skeletons and vultures. It also serves as the boundary between the rest of the world and his home and backyard sanctuary and the other large-scale sculptural works. Faith in Industry, that front yard trinity that includes the Sky Saw, is designed to work in conjunction with the Control Tower and the Sky Stitcher, and designed to thwart what he calls America's movement toward "shameless commercialism and consumer exploitation" by separating the spiritual realm from the socio-economic realm "at no cost to anyone." (He talks a good talk and will convince you of the need if not of the verity of his answer.)
The Infrastructure of an Uncertain Future dominates the backyard, and with a name like that how could it be anything less than sensational? Ashton describes it as "an artifactual environment of what hasn't happened yet," which suggests, perhaps, the difficulty of successfully explaining it … it involves the aptly named Superstructure, an Idea Transmission Ruin and Wandering Figures — lots of them. The Superstructure, Infrastructure's critical element, rises 36 feet above his backyard from its base he made from the almost 14-foot wide iron drive gear he salvaged off an old waterwheel. There are those eponymous wandering figures, and there are 59 stoves, life-sized figures numbered and scattered throughout the yard. Ashton made them from iron, steel and bronze to burn with a fire in their bellies — literally — and he plans to add 40 more ending with 99.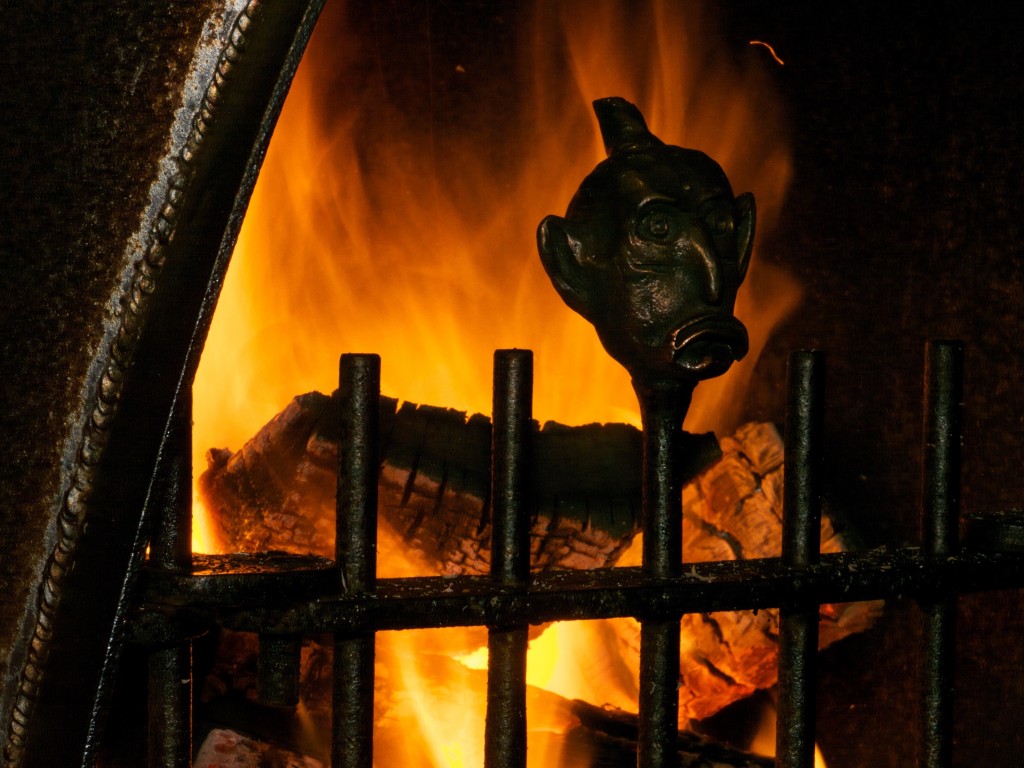 Its scale is perfectly suited for Ashton's grandiose ideas of a "monument to the 20th century, an artifact of fantasy, and a foreshadowing of future collapse and mutation." Indeed. Jerry Cullum, writing for Art Papers in 2003 ("The Man Outside: Or, the New Face(s) of Grassroots Environments") described Infrastructure as a "theory-laden disgruntlement" and a "cathedral of ruined capitalism."
Ashton's prolific output does elicit unavoidable comparisons to the metastatic yard art tradition of certain outsider artists, the familiar term given to other artists possessed of a spirit like Ashton's, say Georgia's Howard Finster or Eddie Owens Martin and others like them who have little education or formal training, but Ashton is neither uneducated nor without formal training. He received an MFA in sculpture from Georgia State University and has taught at Georgia Tech and the University of Tennessee. Though he shares with those artists an obsessive desire to convey what he believes as the truth and a won't-stop-until-you-get-it persistence, his sly, quicksilver intelligence and an intuitive way of knowing how to play the part with wit and charm elevates his act to performance art.
Performance doesn't make the message any less real. Ashton doesn't just talk the talk. He walks the walk. Emboldened by a dream, he liberated himself from a commuter's fate in 1990 when he punched his card for the last time at a job he didn't want and dedicated his life to the pursuit of what mattered to him — to realize his dream of personal freedom and to live a life in which his creative outlet would be purely his own and his work would be honest and true. In addition to his visual art, Ashton rounds out his creative life with the band he named the BooHoo Ramblers. They perform soul-lifting Americana and roots-oriented music, much of it Ashton's own. It's his dedication to his dream of the integration of life and art that makes Ashton and his fantastic work, both literally and figuratively, and the prodigious work and outsized showmanship that goes with it, so believable and, quite frankly, so much fun.
In 2014, many sculptures and 25 years later, reflecting upon his original inspiration, he hoisted his most recent installation, a faux historic marker called The Battle of Druid Hill (August 8-10, 2014) that marks the site where "meager positions were held by rebel fighters in a last stand for dignity as compliant digi-drones surrendered persons, papers and effects into the hands of the new order." The marker names the "homestead of John Clark Ashton Cornelius Farmer," the hill upon which all this stands, and marks the 25th anniversary of his own creation, The Commuter Gallery on the newly named Druid Hill. Ashton notes the auspiciousness of the date which also marks the 150th anniversary of that Civil War battle, the 75th and 100th anniversaries of the onsets of World Wars I and II and the 25th anniversary of his own creation.
Clark Ashton has lived a life of his own making since 1990 when that dream — not an aspiration, but the kind you have when you are asleep that can seem more real than life itself — showed him the way to move from the realm of seeker to self-determination. In the dream, he found himself let go from one job and applying in financial panic for another. Waiting for the foreman in an office that read like a prison cell, he remembered a commitment he had made to himself to pursue in life what truly mattered to him. A dream had delivered his answer. He woke up the next morning, went to work, was fired and escorted to the door an hour later, and dream became reality.
In the year of its 25th anniversary, he was served another reminder of the beauty and brevity and urgency of life. An almost completely occluded artery, the one called "the widowmaker" for very good reason, forced an emergency heart bypass that left him with renewed gratitude for life and a resolve to make every day count.
"The trick," he believes, "is to find that balance between productivity and reflection that yields happiness." It's what he calls, "the epiphany of the gurney."
A far better description of Clark Ashton and his work comes from the man himself.
"The soul is serious business deserving consideration beyond the clichéd bumpkinism celebrated in much Southern art of recent decades. I am an artist with a keen sense of craft, a philosopher with a vision driven by self-actualization, free expression and independent thought, and a citizen with a responsibility to document our time as honestly as I am able."
But The Commuter Gallery is something best experienced for oneself. Make up your own mind. It's what Clark Ashton wants you to do.
The Commuter Gallery can be found on Druid Hill at 3162 N. Druid Hills Road in Decatur. Ashton welcomes visits during daylight hours. Please contact him at www.mechanicalriverfrontkingdom.com.
Donna Mintz
Donna Mintz is a visual artist whose painting and installations are meditations on memory, place and the abiding allure of the stories in the land. Her work is in the permanent collections of the High Museum of Art, the Museum of Contemporary Art of Georgia and the Mobile Museum of Art. Mintz has had solo exhibitions at the Atlanta Contemporary Art Center, Georgia College Museum and the Lamar Dodd Art Center as well as at private galleries throughout the country. She has been included in group exhibitions at the High Museum, the Hunter Museum, Brenau University, Clemson University, Agnes Scott College and the Hambidge Center for Creative Arts and Sciences, where she is a grateful fellow. She is represented by Sandler Hudson Gallery. A regularArtsATL contributor, she is currently at work on a collection of essays on silence in art.